We are Table Space & we go beyond the traditional focus to provide comprehensive solutions
that meet all your workspace requirements by offering the complete spectrum of services that encompass Lease, Design, Build & Operate. When you choose Table Space, we become your trusted single point of contact for all your workspace needs.
With Table Space, you can expect a
seamless & hassle-free experience throughout the entire workspace lifecycle.
From finding the perfect location, to designing & constructing your ideal workspace, to managing day-to-day operations, we are here to support you every step of the way. We are dedicated to providing state-of-the-art workspaces that inspire & empower your business to thrive. Let us take care of your workspace needs so that you can focus on what you do best – driving your business forward.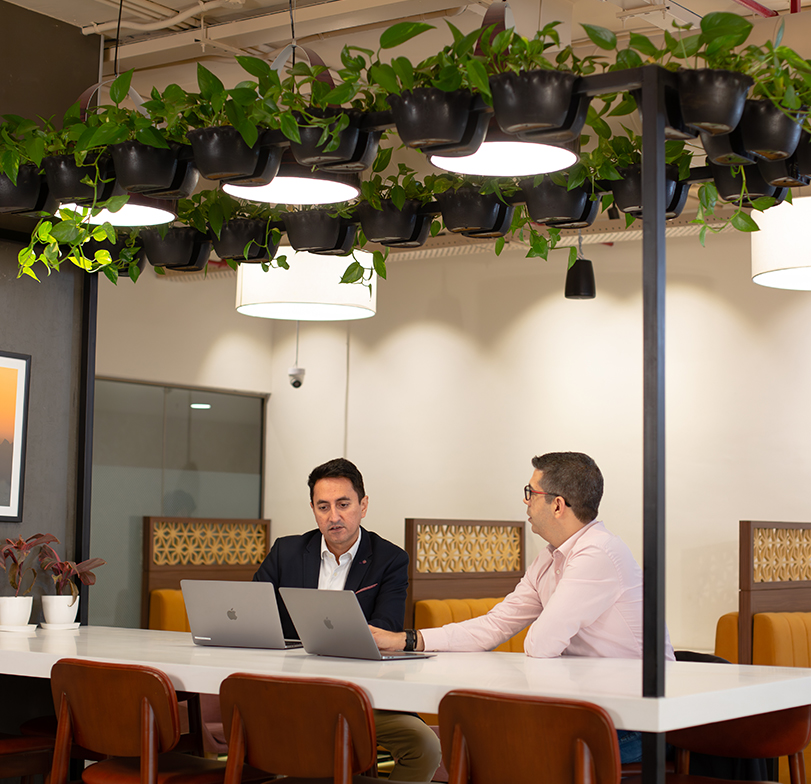 Table Space
Flexibility
Lock-in with Table Space, not the building

Unparalleled flexibility to scale up or down

No upfront CAPEX investment

100% Custom-built to fit client requirements 

Scale up or down effortlessly
Transparency
Complete price visibility throughout the contract 

Guaranteed cost outflow for up to 10 years

Advanced technology for transparent delivery & operations

Customizable SLAs as part of the agreement

Real time reporting on key office metrics
Efficiency
Streamlined single vendor, single cheque solution

Efficient operations powered by technology

Rapid office delivery: 90-120 days turnaround

Minimize IFRS liability impact
Compliance
We build offices that are sustainable, LEED & WELL certified 

Best-in-class compliance management

Global quality standards for enterprises
Tablespace
What Makes Us Different

Market Leader In Enterprise Managed Workspaces
We are the undeniable market leader in Enterprise managed workspaces, with the trust of Fortune 500 clients, serving 230+ premium clients & with over 6 million sq. ft. of state-of-the-art 100% custom-built workspaces across India.
Premium Delivery with Fastest go-live execution
We deliver premium, bespoke workspaces tailored to your needs. With a swift turnaround of 90-120 days, we significantly fast-track the office setup process.
Adapting To Your Business Needs
We offer design flexibility that enables the opportunity to scale up or down as per business needs, without any upfront capex investment while custom-tailoring the space 100% to meet client requirements.
Experience That Delivers Excellence
Our Leadership team's deep understanding of the domain & collective experience of 400+ years drives our company's excellence. We understand your every need and deliver on a quick turnaround.

Building Trust Through Transparency
Occupiers enjoy 100% transparency in our model that continues through the duration of the contract. The pricing agreed upon at the time of the contract is guaranteed for the entirety.
An end-to-end Managed Workspace Solution
When you work with us, we become your single-point of contact for all your needs, which means you can focus on growing your business, while we take care of the rest.